Websites that we surf everyday differs in its attraction elements such as its design and the way the pages are organized, and since we care that you produce a complete site with all its attraction elements produced in a proffessional way, we give you some advices and tricks which would help you to build your site using Site Builder in the best and easiest way.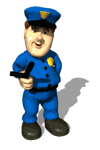 Don't you ever give the adminstrative password of the site builder to anyone except to the person who is responsible for any updates, and it's more secured to change your password regularly to avoid hacking. It's also adviced to use different caracters (small and capital letters, numbers....etc.). Don't use your name, your company name or your birth date as a password because it would be easily guessed.
Time is money:
Every minuite you spend or your site visitors spend surfing your site is payed for. So, if your home page takes a long time loading, this will make your site visitors get bored quickly. And always remember that proffessionaly made sites takes the least time loading its home page.
When editing, pressing enter to start a new line will make you start a new paragraph. To start a new line closer to the last line you already typed, press SHIFT + ENTER.
If you have an image with big size that you want to put in your site, It's not the right way to resize it using the hight and width tags because it would take a long time loading. It's better to use an image editor program (Photoshop,.....etc).
Don't use GIF text because it would also take a long time loading the image. It's better to use typed text.
Avoid using clashing colours on your site pages because it would make your site unattractive. Try to use matching colours to attract your visitiors and try to be more simple in choosing the pages' content.
Most Designers try to make the site attractive by using alot of animations and SWF files which take long time loading and make your visitor bored quickly and keep them waiting reading the phrase "loading..... please wait".
We are all used that the hyperlinks are blue coloured and underlined, so you should be careful when building our site that we don't use this colour as much as possible except in the hyperlinks, and try to care about what the site say not what the site look like.
The navigation links are the links that allow the site visitor to surf your site. Those navigation links should be very obvious to the site visitors so that they don't feel that they are dumber than they can surf your site or make them feel that they can't surf your site easily. Make sure that the navigation links are obvious and easily reached.
Overweighted images shows that the designer of the site is doesn't care for the site like he has though the images in the site and left them. Treatment of images through compressing JPEGs or reducing colour pallet of GIFs.
Avoid Using very large fonts or even using very tiny fonts when building your site. Your font size should be suitable, not so large and not so small and there should be Adequate Spacing between the words.
You should always keep your site content up dated because this make visitors ofyour site trust it more. Never leave your site content contain any old news or information.
If You don't have new news on your site, then this is a bad news! Everyone surfing your site is waiting to find a piece of new news even if it doesn't have any importance to him. He is really waiting to find if this site is alife or not and if you don't supply him with what he want he will start searching for somebody else to give him what he is searching for. Always make sure that your site always contain new news.
The WWW (World Wide Web) was basicly built to linking between all the world. You should not make dead ends to your site pages. They should all link to each other looking like steps to surf the site.
Putting hyperlinks to other sites doesn't mean that you make your site visitors skip your site without browsing all of the pages content. Avoid making your site like most commercial sites.
Plagiarism on the internet is not that hard thing to do. You should not take any information from any site without writing the source it was taken from. This would make your visitors lose trust in your site.
If your site visitors have to search for a long time to find the best you have, this will make them avoid visiting your site the next time they need the service you are providing.
Important links: